Two B.C. dads making smart, affordable baby products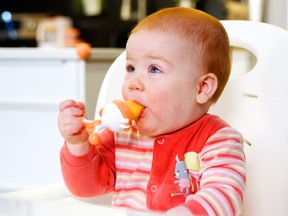 Article content
Not every new father would spend hours taking apart a baby food processor or a breast pump to figure out how to design a better one, but Justin Gurinskas did just that. Tired of going through dozens of expensive, poorly made products that just didn't cut it, Gurinskas and his business partner Garett Senez are proof that whoever coined the old proverb 'Necessity is the mother of invention' forgot about dads.
Article content
"I've noticed endless shortcomings with what's available on the market," says Gurinskas, a father of two young daughters who lives in Victoria.
"I'm quite a germaphobe, and one of the areas often overlooked by other manufacturers is the ability to clean baby food processors easily and properly. You can't get inside the water reservoirs to clean them, and there have been horror stories online of people opening them up and finding mold inside the appliance they use to make their baby food."
When Vancouver-based Senez and his wife Christina started stocking up on baby products before their daughter was born last year, they were stunned at how impractical many things were.
"Nothing was the right size and there was a lack of true innovation," recalls Senez, citing a $35 bamboo feeding set wasn't dishwasher – or microwave-safe.
Article content
"I was upset and frustrated, because they're charging an arm and a leg for stuff that looks nice but wasn't practical. Chatting with Justin one day, he said, 'We should do something about this,' so we did."
Senez and Gurinskas are betting their newly launched start-up Quark will turn the market on its head. The baby tech brand's six must-have baby gadgets feature streamlined design and superior function, designed to appeal to discerning, sleep-deprived Canadian parents who want premium quality, durability and style at an affordable price.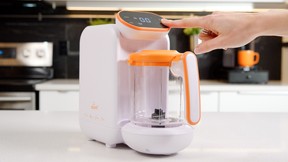 Quook, a compact five-in-one baby food processor that steams and blends, also includes an integrated bottle warmer and automatic cleaning and sterilizing modes. Feedi, a five-piece silicone dining set has an adjustable bib with catch pocket, utensils, a plate and bowl with suction bases so food won't go flying. Storage is simple with stackable, leakproof Storii containers, which come with an integrated ice pack. And freezing just-right sized portions of homemade baby food is a cinch with Chiill, a silicone tray with seven pods. To protect your little one from sharp furniture corners, Foxii's silicone guards are a must when kids become mobile.
Article content
Lastly, Fruuti came about after Gurinskas became fed up with other fruit feeders that squish food but leave residue in nooks and crannies that are virtually impossible to clean.
"We've gone through every single one on the market, and they're all made with mesh or thin silicone; once your kid gets a tooth, they can just tear right through it," he says.
"I wanted thicker silicone and every piece to come apart, and we wanted it to be ergonomic and easy for kids to hold. We wanted to show Canadian parents that we're open to innovating the things they use every day, making them better and safer for kids."
Available online and at more than 400 retail stores across Canada, including Walmart, London Drugs, Loblaw Companies Limited, Indigo Books and Music, as well as dozens of specialty outlets, Quark products are spill- and stain-resistant and made without harmful chemicals.
Most importantly, the new company wants to help parents manage tasks easier so they can relax and bond with their children through food, notes Senez.
"This is not just a passion project for us; this is life," he says. "Food is such a communal, social thing, and what better category to get in that connects you as a dad? I can't breastfeed, so when Hannah was six months old, I was all over the feeding part of it. This is a family business at heart – we all pitch in.  Justin's daughters and mine are models in our marketing videos, and my wife Christina Senez is our hand model."
Article content
The dads have big plans for the future, hoping to add 17 more products like digitally enabled smart breast pumps that can track milk flow rates and sync with your phone, and other tech gadgets like baby cameras and wearable smart tech.
"We're putting a lot of time, effort and resources into building our own proprietary items so we can start putting out products that nobody has seen before," says Gurinskas.
Find out more about making parenting easier with Quark products. Look for them at Walmart, London Drugs, Indigo, Real Canadian Superstore, Amazon or online at QuarkBaby.com.
This story was created by Content Works, Postmedia's commercial content division, on behalf of Quark